| Shin Megami Tensei V | Forza Horizon 5 | Call of Duty: Vanguard |
| --- | --- | --- |
| | | |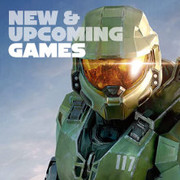 Find release dates, trailers, and scores for major upcoming and recent videogame releases for all platforms, updated weekly.
1.

Tetris Effect: Connected

Tetris Effect: Connected is the original Tetris Effect with all-new co-op and competitive online and local multiplayer modes. This is Tetris like you've never seen it, or heard it, or felt it beforean incredibly addictive, unique and breathtakingly gorgeous reinvention of one of the most popular puzzle games of all time.

2.

Forza Horizon 5

Your Ultimate Horizon Adventure awaits! Explore the vibrant and ever-evolving open world landscapes of Mexico with limitless, fun driving action in hundreds of the world's greatest cars.

3.

Disco Elysium: The Final Cut

Disco Elysium - The Final Cut is the definitive edition of the smash-hit RPG. Pursue your political dreams in new quests, meet and question more of the city's locals, and explore a whole extra area. Full voice-acting, controller support, and expanded language options also included. Get even more out of this award-winning open world. You're a detective with a unique skill system at your disposal and a whole city block to carve your path across. Interrogate unforgettable characters, crack murders, or take bribes. Become a hero or an absolute disaster of a human being.

4.

Forza Horizon 5

Your Ultimate Horizon Adventure awaits! Explore the vibrant and ever-evolving open world landscapes of Mexico with limitless, fun driving action in hundreds of the world's greatest cars.

5.

DUSK

DUSK -A retro FPS that looks and feels like the 90s. Inspired by Quake, Heretic, Hexen, Half-Life and Redneck Rampage.

6.

SNK vs. Capcom: Match of the Millennium

It's history in the making when 2 premiere arcade game giants settle the score. The greatest fighters of all time will be crowned when 18 of SNK's and Capcom's most popular characters collide. It's the best of both worlds: fighters, techniques and formats.

7.

Deathloop

If at first you don't succeed Die, Die Again. From the team at Arkane Lyon comes an innovative take on first-person action. "DEATHLOOP" transports players to the lawless island of Blackreef in an eternal struggle between two extraordinary assassins. Explore stunning environments and meticulously designed levels in an immersive gameplay experience that lets you approach every situation any way you like. Hunt down targets all over the island in an effort to put an end to the cycle once and for all, and remember, if at first you don't succeed die, die again.

8.

Metroid Dread

Join intergalactic bounty hunter Samus Aran in her first new 2D Metroid™ story in 19 years. Samus' story continues after the events of the Metroid™ Fusion game when she descends upon planet ZDR to investigate a mysterious transmission sent to the Galactic Federation. The remote planet has become overrun by vicious alien lifeforms and chilling mechanical menaces. Samus is more agile and capable than ever, but can she overcome the inhuman threat stalking the depths of ZDR? Face off against unrelenting E.M.M.I. robots Once DNA-extracting research machines, the imposing E.M.M.I. are now hunting Samus down. Tensions are high as you evade these E.M.M.I. to avoid a cruel death while finding a way to take them down. Find out what turned these robotic wonders into the scourge of ZDR and escape with your life. Feel Samus' power grow as you gain maneuvers and abilities Acquire new and familiar abilities as you traverse the many environments of this dangerous world. Parkour over obstacles, slide through tight spaces, counter enemies, and battle your way through the planet. Return to areas and use your new abilities to find upgrades, alternate paths, and a way forward. Explore the sprawling map, evade and destroy E.M.M.I. robots, and overcome the dread plaguing ZDR.

9.

Bonfire Peaks

Move onwards, move upwards, and leave nothing behind. Bonfire Peaks is a puzzle game about closure, by Corey Martin and published as well as co-produced by Draknek, creator of A Monster's Expedition and Cosmic Express. Navigate expertly designed puzzles in a breathtakingly lovely voxel-based world. Filler content has been burned away to create a perfectly fine-tuned experience, filled with richly rewarding challenges and surprising new mechanics that'll keep sparking your interest right through to the end.

10.

Football Manager 2022

M22 brings new, progressive ways to find that winning edge, instil your footballing style and earn it for the fans. Pack includes an FM 'Coaching Planner' to take your tactical planning and squad building to the next level. Football isn't just about winning - it's about overcoming the odds and earning your success. Fighting your way to the top or clawing your way back from the brink; these are the moments that taste sweetest. In Football Manager 2022, you're the architect of your club's destiny - the fans' fortunes rest with you. Prevail in the moments that matter to turn their dreams into reality and earn your place alongside the managerial greats.