| MARVEL Future Revolution | NieR Re[in]carnation | My Friend Pedro: Ripe for Revenge |
| --- | --- | --- |
| | | |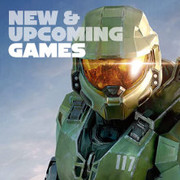 Find release dates, trailers, and scores for major upcoming and recent videogame releases for all platforms, updated weekly.
1.

LEGO Star Wars Battles

Lead your favorite LEGO Star Wars characters into real-time, multiplayer PvP battles in arenas inspired by iconic locations from throughout the galaxy! What happens when an Ewok takes on a Tusken Raider? Can a flock of porgs tackle a stormtrooper in a standoff? Could Chewbacca go toe-to-toe with Boba Fett? Who would win in a showdown between Yoda and Darth Vader? Collect and upgrade LEGO Star Wars characters, troops, and vehicles and craft formidable light and dark side armies. Build LEGO towers on the battlefield and develop a strategy to attack, defend, and capture territory as you push towards the enemy base to claim victory! Download this exciting LEGO game that brings together every era of Star Wars storytelling in a tower defense style.