| Blue Reflection: Second Light | Demon Slayer: Kimetsu no Yaiba - The Hinokami Chronicles | Kena: Bridge of Spirits |
| --- | --- | --- |
| | | |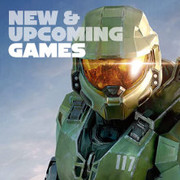 Find release dates, trailers, and scores for major upcoming and recent videogame releases for all platforms, updated weekly.
1.

Flynn: Son of Crimson

Flynn: Son of Crimson is a handcrafted 2D action platformer that will take you on a journey of discovery and redemption.

2.

Lost Judgment

SEIZE THE TRUTH - December 2021, Tokyo district court. Akihiro Ehara stands accused of groping a woman on a crowded train. A bystander's video footage of his attempt to flee the scene and subsequent apprehension is all over the news, and public outcry demands a maximum sentence. "Three days ago, a dead body was found in an abandoned building in Yokohama. Have you identified it yet?" he proclaims as confusion cuts through the court room. His defense lawyer, Saori Shirosaki, has no doubt that crucial details of the situation have been overlooked, as Ehara was not even tried for the murder. She contacts detective Takayuki Yagami to investigate this further. How could Ehara have committed two crimes at once? Was the sexual battery just a cover up? Has Ehara gamed the entire justice system? As victims surface and Yagami digs farther into the truth, he is faced with a question: Defend the law, or enact justice? From just a single stumble, one can become a monster… BRINGING JUSTICE AT THE EDGE OF THE LAW Put Yagami's distinct martial arts forms to the test in order get to the bottom of the case. Harness the Crane, Tiger, and new Snake stance, a graceful style that can deflect and return an opponent's strikes, using their energy against them. EVERYONE'S GOT A STORY Employ Yagami's arsenal of detective tricks with new gadgets, stealthily tracking suspects, and crafty methods of infiltration. Leave no stone unturned in pursuit of the truth as you take on cases in both Tokyo and Yokohama.

3.

Castlevania Advance Collection

Count Dracula is once more back from the dead... Join the fight against Evil in the Castlevania Advance Collection, a compilation of timeless action-exploration masterpieces! In addition to the three legendary Castlevania games that were first released in the early 2000s, this collection also includes Castlevania: Dracula X and some never-before-seen sketches and artwork from the games! All four games are enhanced with newly added modern features such as Rewind, Save/Load and Replay, making this the best way possible to experience these classics or discover them for the first time! This collection also boasts a handy Encyclopedia, a Music Player with all soundtracks and you can even change the ROM Region to play all games in different versions.

4.

Life is Strange: True Colors

A bold new era of the award-winning Life is Strange begins, with an all-new playable lead character and a thrilling mystery to solve! Alex Chen has long suppressed her 'curse': the supernatural ability to experience, absorb and manipulate the strong emotions of others, which she sees as blazing, colored auras. When her brother dies in a so-called accident, Alex must embrace her volatile power to find the truth and uncover the dark secrets buried by a small town.

5.

Tales of Arise

Challenge the Fate That Binds You On the planet Dahna, reverence has always been given to Rena, the planet in the sky, as a land of the righteous and divine. Stories handed down for generations became truth and masked reality for the people of Dahna. For 300 years, Rena has ruled over Dahna, pillaging the planet of its resources and stripping people of their dignity and freedom. Our tale begins with two people, born on different worlds, each looking to change their fate and create a new future. Featuring a new cast of characters, updated combat, and classic Tales of gameplay mechanics, experience the next chapter in the world-famous Tale of series, Tales of Arise. The Next Chapter Experience the next chapter in the Tales of series, brought to life in stunning HD powered by Unreal Engine 4 Dynamic Action Dynamic Action RPG featuring an updated battle system that retains classic Tales of gameplay A New Tale Awaits Rich story featuring a vibrant world and new cast of characters Stunning Visuals High quality animation created by Ufotable

6.

The Eternal Cylinder

In The Eternal Cylinder, players control a herd of adorable creatures called Trebhums and must explore a strange alien world filled with exotic lifeforms, surreal environments, and the constant threat of the Cylinder, a gargantuan rolling structure of ancient origin which crushes everything in its path. This unique ecosystem is a massive, procedurally generated land with unique animal AI, real-time world destruction, and organic exploration and puzzle design to create emergent gameplay that ensures no two playthroughs are ever the same. Your Trebhums begin at the bottom of the natural food chain but can mutate and evolve with new physical attributes and abilities by eating a variety of flora and fauna. Discover and adapt dozens of mutations, including new traversal skills like flying and swimming to reach new areas, and new senses to help overcome puzzles, challenges and dangers. Your many Trebhums can each have different mutations, and new mutations don't replace ones you already have, letting you stack ability sets in dynamic ways. Each mutation will also change the physical look of a Trebhum and stacking these will generate near countless surprising new creature designs which players will be able to organically discover as they explore this unique alien ecosystem. Game Features: * Unforgettable Alien World to explore: Players must explore a gorgeous procedurally generated world which is populated with unforgettable vistas and unique landscapes which have something new to discover around every corner. The Eternal Cylinder features an open-world which allows players to reach and explore any areas which they can see on the horizon. This encourages constant exploration and ensures that there's always something new to see. * Real-Time World Destruction: Everything in the world can be destroyed in real-time by The Eternal Cylinder, so players must continuously evade its destructive path in order to survive whilst marveling at the visual splendor of its godlike power. Story Driven Open-World Survival: Unlike many open-world survival titles, The Eternal Cylinder features a deep and engrossing story for players to uncover as they continue to explore the vast world. The game explores themes of family and heritage, and the lasting power of knowledge. * Build Your Own Alien Family: Unlike standard survival games where you have a main shelter that you can build or improve, in Eternal Cylinder players develop a nomadic herd of unique alien creatures called Trebhums. Players control one Trebhum from the herd at a time and the rest follow (Al controlled) but players can switch to any individual member of their herd at will. Explore the world to rescue more of your brethren and continuously expand your family. Control a herd which can grow to more than 20 members at any given time and imbue each of your Trebhums with their own unique mutations and skill sets. Players can create a custom name for each of their Trebhum, increasing the emotional bond between player and their Trebhum family. * Unique Mutation System: Although Trebhum's are generally frail and start their lives at the very bottom of the world's food chain, they have the unique ability to mutate and unlock new skills by consuming natural edibles which populate the game world. So, players must explore and experiment with a vast array of fruits, flora and alien creatures to unlock new powers and gameplay options. * 50+ Mutations to discover: Players can unlock more than 50+ unique mutations as they explore the world, each one of which enable new gameplay options. These include new traversal options such as the ability to fly and swim, but also new offensive moves like the ability to spit fire and create loud warning noises. New mutations allow players to explore new areas and each mutation stacks thus creating a truly expansive skill set which is constantly evolving. * A Trebhum for everyone: Enjoy a virtually endless visual variety of Trebhum designs, as each mutation combine with one another to create surprising new creatures. This allows your herd to continue to evolve as players explore new areas and players can share the unique look of their Trebhum family with the rest of the world online. * Layered Survival: Players need to manage multiple layers of resources in order to be able to survive. These include hydration level, various temperatures each with their own impact and stamina. * Living and Breathing Ecosystems: The world of The Eternal Cylinder is populated with more than 30 memorable handcrafted alien creatures. These creatures vary greatly in size and range from those smaller than a Trebhum, all the way to skyscraper sized leviathans who dominate the horizon. Each of these creatures feature their own dedicated Al and behave in natural ways. Players must learn their unique behaviors and discover surprising ways to utilize the natural food chain to their advantage and interact with every creature. * Organic Puzzle Solving and Progression: The world of the Eternal Cylinder has been designed to empower players to organically solve its mysteries and progress without the need for obvious prompts and mission logs. This allows for fully immersive exploration which rewards players of every skill level, as the greater majority of the puzzles are not required for progression but do provide unique experiences. * 4 Unique Biodomes lo Discover ond Explore: Players can explore 4 unique biodomes including alien savannas and infected habitats, each with their own dedicated ecosystems and unique creatures to discover. * Truly Emergent Gameplay: The Eternal Cylinder's lush procedurally generated world, vast number of mutations to discover and unlock, unique creature Al system, living natural ecosystem, real-time world destruction and organically placed puzzles combine to create near endless possibilities for emergent gameplay and help to ensure that no two playthroughs will ever be there same.

7.

Rainbow Billy: The Curse of the Leviathan

Rainbow Billy: The Curse of the Leviathan is a wholesome, creature capture, 2.5D Adventure-Puzzle-Platformer with RPG elements. It is a family-friendly and openly accessible adventure in which you must save whimsical creatures by bringing back color to the world you once knew! Rainbow Billy tells a universal coming of age story about dealing with changes in the world and accepting ourselves and the others around us! Sometimes it only takes a conversation, empathy, and a new point of view to make a world of a difference. EXPLORE A WONDROUS WORLD! From dark caverns on secret islands to hidden coves off in the stormy seas, explore a rich world filled with treasure, fish (because every great game has a fishing minigame!), friendship and... danger! SOLVE ENVIRONMENTAL PUZZLES! Each world is filled with clever challenges and secrets that unlock new areas to explore! BEFRIEND CURIOUS CREATURES! Meet over 60 strange, lovable creatures and help them with their problems in non-violent encounters! Create your own unique team to save the day! RECOLOR THE WORLD! Restore color to a monochrome world and help your friends find the courage to be their true selves in a story about empathy and growth.

8.

Lost in Random

Play the odds in Lost in Random™, a gothic fairytale-inspired action adventure where every citizen's fate is determined by the roll of a dice. Ruled by a wicked Queen, the kingdom of Random is divided into six shadowy realms where life is dictated by a cursed black dice. In this story, from the award-winning Swedish game studio Zoink and penned by Eisner Award-winning Adventure Time and Marvel Comics The Unbeatable Squirrel Girl author Ryan North, you'll join Even, a penniless girl who's down on her luck, in a dark quest to save her beloved sister. With her companion Dicey, a small and strange living dice, Even must learn to embrace the chaos of Random, uncovering an age-old tale with a modern message. Walk Random's mysterious cobbled streets, meet its unpredictable residents, and take on courageous quests. Engage in fearsome battles with a unique blend of tactical combat, card collection, and explosive dice gameplay. It's time to adapt or perish, as you battle inside giant board game arenas that change with every dice throw! Learn how to tip the odds in your favor, and dive into a dark wonderland where only the brave survive.

9.

BPM: Bullets Per Minute

BPM is a rhythm-action FPS rogue-like where you must shoot, jump and dodge to the beat of an epic rock soundtrack. Delve into a randomly generated dungeon where one missed note can lead to your death. Gain game-changing abilities and loot powerful weaponry to defeat your ancient enemy: Nidhogg.

10.

Insurgency: Sandstorm

Insurgency: Sandstorm is a team-based, tactical FPS based on lethal close quarters combat and objective-oriented multiplayer gameplay. Experience the intensity of modern combat where skill is rewarded, and teamwork wins the fight.