| Shin Megami Tensei V | Mario Party Superstars | Metroid Dread |
| --- | --- | --- |
| | | |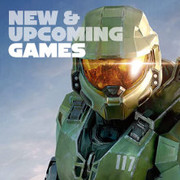 Find release dates, trailers, and scores for major upcoming and recent videogame releases for all platforms, updated weekly.
1.

Tetris Effect: Connected

Tetris Effect: Connected is the original Tetris Effect with all-new co-op and competitive online and local multiplayer modes. This is Tetris like you've never seen it, or heard it, or felt it beforean incredibly addictive, unique and breathtakingly gorgeous reinvention of one of the most popular puzzle games of all time.

2.

DUSK

DUSK -A retro FPS that looks and feels like the 90s. Inspired by Quake, Heretic, Hexen, Half-Life and Redneck Rampage.

3.

Metroid Dread

Join intergalactic bounty hunter Samus Aran in her first new 2D Metroid™ story in 19 years. Samus' story continues after the events of the Metroid™ Fusion game when she descends upon planet ZDR to investigate a mysterious transmission sent to the Galactic Federation. The remote planet has become overrun by vicious alien lifeforms and chilling mechanical menaces. Samus is more agile and capable than ever, but can she overcome the inhuman threat stalking the depths of ZDR? Face off against unrelenting E.M.M.I. robots Once DNA-extracting research machines, the imposing E.M.M.I. are now hunting Samus down. Tensions are high as you evade these E.M.M.I. to avoid a cruel death while finding a way to take them down. Find out what turned these robotic wonders into the scourge of ZDR and escape with your life. Feel Samus' power grow as you gain maneuvers and abilities Acquire new and familiar abilities as you traverse the many environments of this dangerous world. Parkour over obstacles, slide through tight spaces, counter enemies, and battle your way through the planet. Return to areas and use your new abilities to find upgrades, alternate paths, and a way forward. Explore the sprawling map, evade and destroy E.M.M.I. robots, and overcome the dread plaguing ZDR.

4.

Shin Megami Tensei V

The ambitions of god and human clash amidst the horror of a dying world. Neither human nor demon, the newly-forged Nahobino and his friends must decide what is worth saving... and prepare to sacrifice everything in its name. In a world without its Creator, which path will you choose?

5.

Unpacking

Unpacking is a zen puzzle game about the familiar experience of pulling possessions out of boxes and fitting them into a new home. Part block-fitting puzzle, part home decoration, you are invited to create a satisfying living space while learning clues about the life you're unpacking.

6.

Disco Elysium: The Final Cut

Disco Elysium - The Final Cut is the definitive edition of the smash-hit RPG. Pursue your political dreams in new quests, meet and question more of the city's locals, and explore a whole extra area. Full voice-acting, controller support, and expanded language options also included. Get even more out of this award-winning open world. You're a detective with a unique skill system at your disposal and a whole city block to carve your path across. Interrogate unforgettable characters, crack murders, or take bribes. Become a hero or an absolute disaster of a human being.

7.

Castlevania Advance Collection

Count Dracula is once more back from the dead... Join the fight against Evil in the Castlevania Advance Collection, a compilation of timeless action-exploration masterpieces. In addition to the three legendary Castlevania games that were first released on Game Boy™ Advance, this collection also includes Castlevania: Dracula X and some never-before-seen sketches and artwork from the games! All four games are enhanced with newly added modern features such as Rewind, Save/Load and Replay, making this the best way possible to experience these classics or discover them for the first time! This collection also boasts a handy Encyclopedia, a Music Player with all soundtracks and you can even change the ROM Region to play all games in different versions.

8.

Gleylancer

In the year 2025, a war breaks out between humans and a hostile alien race, and 16-year-old Lucia and the rest of the starfighter pilots in the Earth Federation must join the battle. When Lucias father, Ken, is kidnapped by the aliens, Lucia decides to take action and hijacks a brand-new prototype starfighter, the Gley Lancer, in order to try to save her father. In this side-scrolling shooter, step into the cockpit of the Gley Lancer as Lucia, rescue your father, and destroy the evil aliens that are bent on destroying the human race!

9.

Espgaluda II -Be Ascension. The Third Bright Stone of Birth-

Galuda is a biological weapon that connects the Holy Spirit and humans through alchemy and mechanical engineering. The "Shinra" military nation, which gained power from Galuda, was destroyed by the two Galuda "Ageha" and "Tateha" they created. Three years have passed since that war. After an experiment involving contraindications, "Soma" artificially acquired Galuda's abilities. And the only Galuda to be born, "Asagi" who was the assassin of King Soma. "Tsubame" and "Janome" who are also artificial Galuda and prince and princess of the Soma country chasing Asagi. Then Ageha and Tateha go to Asagi's rescue to stop the tragedy. The battle with the real Galuda and the Galuda built is about to begin.

10.

Olympia Soiree

With her entire clan wiped out years ago, Olympia has been isolated for most of her life. Now she lives as the only person on Tenguu Island who can perform a ritual that restores light to a world shrouded in darkness. The heads of each Primary district Red, Blue, and Yellow lead a society governed by the island's rigid class structure. As Olympia travels between the districts, she discovers their wonders and their weaknesses, as well as an entire underground community of shunned individuals whom she becomes determined to help. If she can find the person destined to be her soulmate, she will finally be able to open her heart and reveal her true name, continue her bloodline, and save the world before it is destroyed.