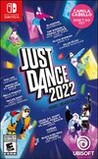 Summary:

Just Dance 2022, the ultimate dance game, is back with new universes and 40 hot new tracks from chart-topping hits like "Believer" by Imagine Dragons, "Level Up" by Ciara, and more.
Developer:

Ubisoft

Genre(s):

Action

,

Rhythm

,

Dancing

Cheats:

On GameFAQs

Available On:

Stadia

Rating:

E10+
There's no doubt that Just Dance 2022 has fallen into some of the traps of other annual games by not making it feel like a total makeover, but once you feel the quality of the choreography and see the improved visuals, you can't deny that Ubisoft is still trying to deliver an exceptional product where it counts: the dancing and song selection. Even as one who is slightly out of touch with current hits, most of them successfully motivate me to get off my butt and start dancing.

Just Dance 2022 offers us again hours and hours of dancing with new songs and visual effects that join the songs that Ubisoft has already included in previous games. However, as you may have noticed, the news in relation to game mechanics and modes are practically non-existent.

Just Dance 2022 is a dance without a revolution, but what a dance, ladies and gentlemen. Strengthened by a sensational line-up that ranges from the old glories of the past to the new stars of the present (even virtual ones), the last chapter of the series focuses on the quality of the selected pieces and on choreographies of indisputable specific weight. The various levels of difficulty ensure an experience within everyone's reach.

Just Dance 2022 comes to the Nintendo Switch with new game modes and improvements to its graphics and sound quality. Unfortunately, it does not add anything new to its already well-known formula. To make matters worse, its track selection will feel too limited if you do not plan on paying for the Just Dance Unlimited subscription.

Just Dance 2022 is okay. It's more of the same with some cool new tracks, a slick and smooth experience overall that plays it safe and works just fine as a result. However, it also constantly pushes its subscription service and ends up feeling a little convoluted and tacky as it spends more time flogging tracks you don't own over letting you enjoy the ones included with the base game. Fans of the series — or anyone who's just danced to even a single track from the series — will know exactly what they're getting here, but newcomers should be aware that they'll need to fork out more cash after buying the game in order to enjoy the full experience.

The modern dance visuals and the addition of popular songs in Just Dance 2022 will likely appeal to longtime fans of the game; however, those who are new to the series may want to opt for a version a few years older, and purchase the Just Dance Unlimited subscription instead, to save money and learn gameplay with songs that have easier dance moves. While unlikely at this time, the option to permanently purchase past songs as DLC would be a big benefit for Just Dance 2022, allowing players to pay a one-time fee for their favorite songs, rather than a monthly steep monthly cost for songs that may not get played.
Just Dance 2022 is a good game if you want some fun songs to dance to. I haven't played the game yet (pre-ordered it), But without playing the

Just Dance 2022 is a good game if you want some fun songs to dance to. I haven't played the game yet (pre-ordered it), But without playing the game, it's one of the best in the whole franchise. The songs are very good, it's choreography is great and it's backgrounds are wonderful. But, it's lacking new features. It's tiring have the same features for the past 4 years and have zero new features. I was also hyped for Dark Mode but there is none. And a new menu would be very nice to have, but there is none. I'm giving this an 8 out of 10, because it's a good game, but is lacking some fan-wanting features.

…

Expand