Publisher:

Nintendo

Release Date:

Oct 29, 2021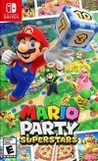 Summary:

A Superstar collection of classic Nintendo 64™ boards - Calling all Superstars! Mario Party™ is back with 5 classic boards from the Nintendo 64 Mario Party games. Frosting meets flowers as you race to get the most stars (and sabotage your opponents) on the Peach's Birthday Cake board from

A Superstar collection of classic Nintendo 64™ boards - Calling all Superstars! Mario Party™ is back with 5 classic boards from the Nintendo 64 Mario Party games. Frosting meets flowers as you race to get the most stars (and sabotage your opponents) on the Peach's Birthday Cake board from the original Mario Party game. Or watch the countdown that unleashes Bowser Coin Beam and hold onto those coins on the Space Land board. The tides can turn quickly in Mario Party, so stay vigilant, partygoers. This and all other modes can be played online**, too! 100 classic minigames return from the Nintendo 64 and Nintendo GameCube™ games and more!

Try your hand at a Superstar collection of minigames from throughout the Mario Party series. Whether you are saving up coins for stars in board game mode or practicing in free play, there is nothing quite like being the last one standing in Mushroom Mix-Up or Shy Guy Says. All minigames are played with button controls, so you can stick to the Joy-Con™ controller or bust out the Nintendo Switch™ Pro Controller or a Nintendo Switch Lite system.

Party with superstars near or far

Bring the party anytime, anywhere with same-system***, local wireless***, or online** play. Matches with friends in board game mode save each turn, so feel free to take a break and pick up where you left off. Use stickers to praise or pester fellow players as you race across the board collecting stars. All modes support online multiplayer, so you can hop in with friends for a few minigames or a marathon 30-turn match. Victory is just as sweet (and stealing stars is just as satisfying) from anywhere across the globe.


…

Expand
Genre(s):

Miscellaneous

,

Party / Minigame

Cheats:

On GameFAQs

Rating:

E
Please enter your birth date to watch this video:
You are not allowed to view this material at this time.
Mario Party Superstars | Nintendo E3 2021
The very best minigames and boards throughout the Mario Party series have been brought together and recreated for some truly hilarious good times. While I wish there were even more boards to choose from, the game is still plenty of fun whether you're playing locally with friends or online with others.

Mario Party Superstar's online mode boosts the game up to the point that it becomes the most well-rounded entry of the series. It is something that players had been looking for many years now, and it completely matches expectations.

If you're a longtime Mario Party fan, you will love Mario Party Super Stars. If you've never played a Mario Party, there's no better time than now to get into it. By yourself, on the couch, or online with friends or strangers, every way to play is a blast and then some. Some menu things are a bit annoying and I wish there was were a couple more characters or stages or mini-games to unlock. But in all, Mario Party is back, baby.

After a decade of games that sought to reinvent and renew the series, Mario Party Superstars rewinds time for a reminder of what made Mario Party popular in the first place. Five gorgeously recreated boards, 100 cherry-picked minigames, and countless opportunities to plan and scheme your way to victory... so long as the dice roll in your favour.

If you want a game to warm up your winter, Mario Party Superstars is for you! The compilation, intended to punctuate your family reunions, will seduce you in a snap by bringing back wonderful memories, at least if you have played past episodes. The whole benefits in addition to accessible and fun mini-games and a very successful visual coating. However, let us note all the same that Mario Party Superstars lacks content and shares too much in common with its elder. If you've done The Top 100 recently, you'll be on familiar ground.

Mario Party Superstars certainly provides the highs that the series is capable of, but unless you're restricted to playing on the Switch Lite or itching to play with a Pro Controller, there's a better version of this game available for you and your loved ones to play in Super Mario Party.
I hate to seem biased by rating so many Ninty titles a 9 or 10....but jeez!!! They are doing so well! This is THE best Mario Party game ever

I hate to seem biased by rating so many Ninty titles a 9 or 10....but jeez!!! They are doing so well! This is THE best Mario Party game ever released. No more motion controls (which makes this way more skill based), the boards require actual strategy, the dice has been returned to normal (all characters get a 1-10), oh and the graphics are gorgeous. Everything has a true HD shine to it, character models along with level textures are high quality and the game has a certain polish. Even the most lame mini games are enjoyable due to how well the controls have been implemented. Speaking of mini games, I think the selection is truly worth the title, "Superstars". Do yourself a favor and pick this one up, you will see what I mean once you play it. : )

…

Expand

very good game, is best fun when 2 or more people play at home over the internet is also well done

Absolute return to form! Fingers crossed for DLC that would be the icing on peaches cake

A phenomenal party board game that does just what it sets out to do. I wish ND Cube developed new boards, but that's a minor nitpick. I also

A phenomenal party board game that does just what it sets out to do. I wish ND Cube developed new boards, but that's a minor nitpick. I also wish custom dice for each characters was still in the game as AN OPTION, but at the end of the day, most people would disagree with that. Mario Party Superstars is the best of the modern installments and shines a bright light on the future of the series.

…

Expand

It's definitely a game that you can enjoy with your friends or online players and has almost the best games of the franchises. However, there

It's definitely a game that you can enjoy with your friends or online players and has almost the best games of the franchises. However, there are things I need to point out:

- The game gives a lot of coins on the board. Lucky spaces are all over the place so it doesn't seem to be lucky to land on these.
- A draw minigame result rewards players all players? If a game has some sort of competition and 2 players end up in a draw, why are they both being rewarded in the same way as they would have won? A fair result would be to split the reward in 2.
- I think the game has a decent net code, but sometimes the other players have a very unstable connection that actually may affect the outcome. Especially survival that you may lose because of an unstable connection and lose the winning strike.
- I am aware that there are bonus stars, but sometimes the categories could be more about rewarding effort than just rewarding randomness. People who won most of the games/coins, use/purchase more items, etc. instead of rewarding somebody that landed on red spaces?
- Add the options to cancel the game search whenever you want.

That's it. In general, is a good game that needs some game balance to make it more "fair." A must have for Mario Party lovers.

…

Expand

One BIG problem with just having bonus stars ON (instead of CLASSIC) is that despite my having won almost all the mini-games and keeping 1st

One BIG problem with just having bonus stars ON (instead of CLASSIC) is that despite my having won almost all the mini-games and keeping 1st place for most of the match, I somehow ended up getting 3rd at the end. This is because I was only ahead by one star and a bonus star was given to someone who had the lowest dice rolls and another was given to someone who had the highest dice rolls. I was not awarded any bonus star.

It's also a problem that I was playing on Peach's Birthday Cake where the star never moves, so everyone just keeps stacking up stars as they go around the board. For any other scenario where the star keeps moving around, I would've been fine, but not here. Therefore, I only recommend doing Bonus Stars ON for any board OTHER than Birthday Cake.

Mario Party Superstars can be very fun when you're winning and very frustrating when you're losing with bad luck. It's the ultimate love-hate relationship. It makes you want to invite people to play together and then makes you regret doing that because you're having a bad match. Regardless, I keep coming back for more. What am I a masochist?

…

Expand

Solid 8/8.5 video game. People who rate it higher are your typical s oy redditor diehard nintendo defender type person who loves being

Solid 8/8.5 video game. People who rate it higher are your typical s oy redditor diehard nintendo defender type person who loves being mistreated and exploited by some massive company who don't care about them and think the absolute worst of them or fall under the emotion of being so used to playing constant mediocre or just bad western games or Nintendo games that when they finally play an 8/10 they say it's the best game ever. That was a mouthful, but it's true. Dislike the review all you want but it only reveals the sad truth of the world and modern gaming industry as a whole. I think the games fun and decent overall, but nothing to completely fawn over nintendo for. The game has 5 stages….. yeah this game has 5 stages to play on in 2021. If I heard a new mario party game would come out back in like 2001 or so when I was a kid in 20 years and it had 5 stages to play on I would worry for the future, but here we are right. Anyway, very decent video game and is just a straight remaster of when mario party was good with 5 stages to play on with online capabilities. People will freak out on Reddit about how it has online but the Dreamcast had online multiplayer in 2000 so I mean they're 21 years late on this feature unironically. For what it is at face value in this current day and age, it's good. Buy it if you want to play remastered mario party mini games online against randoms or your friends. Yeah. 8/10.

EDIT:
Welp, take back what I said. Just figured out you are not allowed to que online with friends and play against randoms, a feature that has been standard in online games for over 15 years now. Also, the only game I played last night with my friend where we were forced to find our own players to play with in a netplay server disconnected both of them throughout the game and we couldn't even finish one game. If you rate this 7 or higher, something is seriously wrong with you. Go back to Reddit.

…

Expand