Publisher:

Atlus

Release Date:

Nov 12, 2021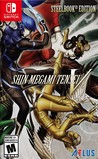 Summary:

The ambitions of god and human clash amidst the horror of a dying world. Neither human nor demon, the newly-forged Nahobino and his friends must decide what is worth saving... and prepare to sacrifice everything in its name. In a world without its Creator, which path will you choose?
Please enter your birth date to watch this video:
You are not allowed to view this material at this time.
Shin Megami Tensei V — Bethel Trailer
Minor graphical hiccups aside, Shin Megami Tensei V is an outstanding RPG, made all the more so by its countless improvements over its older siblings. It's tough but enthralling, and brimming with style. More importantly, perhaps, it has great ideas executed to something near perfection. It's been a long wait since Atlus first announced SMT V at the Switch reveal show, but it was absolutely worth it.

Featuring a new approach to exploration and extremely solid gameplay, Shin Megami Tensei V masterfully balances innovation and tradition to offer an excellent JRPG experience. While the technical issues can get in the way, the game's quality is so high that most will be willing to look past them, as Shin Megami Tensei V is one of the best entries in the series and one of the best JRPGs released in 2021.

Shin Megami Tensei V is an excellent game that more than lives up to the expectations of its specific series. While its innovations grate against its more ancient elements, what emerges is still something that manages to capture attention for its hefty playtime.

Shin Megami Tensei V is an incredible achievement. While it comes off as less of a horror game than previous entries in the series, its sheer scale and eerie presentation more than make up for the lack of dedicated scares. In some ways, I feel that gaming technology has finally reached the point that it's able to convey the tone and feel that Shin Megami Tensei has been trying to capture since the 80s. There's a lot packed into this game, especially if you play on a higher difficulty, which I definitely recommend doing. If you're allergic to grinding, there is an optional Safety difficulty that will let you focus on the story instead, but you'll still probably spend a lot of time exploring the expansive game world and getting lost between buildings.

Shin Megami Tensei V is pretty much the sequel that fans have been waiting for. There are a few potentially controversial decisions, such as the emphasis on an open-world area instead of the franchise classic dungeons, but they ended up working out in the end. The gameplay was fun from start to finish, and the 40-hour runtime seemed to fly by thanks to excellent pacing. If you liked Nocturne but wished it were more modern, SMT5 is the game you've been waiting for.

Shin Megami Tensei V has a deep and satisfying combat system making every fight a challenge, as well as an engaging story and great visuals.

Shin Megami Tensei 5's combat is great, punishing and rewarding in equal measure without ever tipping the scales too far in one direction. Mixing and matching your deck of demons makes for great fun as well, and spurs you to look to all corners of the ruined world for allies of all shapes and sizes. It's everything outside of the battling and grungy soundtrack where Shin Megami Tensei 5 badly misses the mark, with one-note characters that you're never given the chance to better know, and a paper-thin plot that feels dragged out over dozens of hours. Shin Megami Tensei 5 is a good RPG battler, but it's not good at much else.