| Cyber Shadow | Scott Pilgrim vs. the World: The Game - Complete Edition | Werewolf: The Apocalypse - Heart of the Forest |
| --- | --- | --- |
| | | |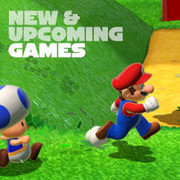 Find release dates, trailers, and scores for major upcoming and recent videogame releases for all platforms, updated weekly.
1.

Gears 5: Hivebusters

Return to Gears 5 with the Hivebusters expansion and undertake their first suicide mission. Explore the tropical Galangi islands, battle enemies with the team's ultimate abilities and confront a deadly new predator.

2.

Call of the Sea

A weird tale of otherworldly mystery. Call of the Sea is a first-person adventure puzzle game set in the 1930s that tells the story of Norah, a woman on the trail of her missing husband's expedition. The search takes place on a strange but beautiful island in the South Pacific, filled with secrets waiting to be unearthed. It is an otherworldly tale of mystery, adventure, and self-discovery.

3.

The Yakuza Remastered Collection

Complete The Dragon of Dojima's Journey Celebrate Kazuma Kiryu's saga with the beautifully remastered Yakuza 3, 4, and 5. With restored content and updated localization in 1080p and 60fps, experience the complete Yakuza collection on one console for the first time in history.

4.

Cyber Shadow

The world has been taken over by synthetic lifeforms. A desperate plea for help sets Shadow, the sole survivor of his clan, on one last mission to uncover what started the path to perpetual ruin.

5.

Little Nightmares II

Little Nightmares II is a suspense-adventure game in which you play as Mono, a young boy trapped in a world that has been distorted by a mysterious transmission from a distant signal tower. With Six, the girl in a yellow raincoat, Mono sets out to discover the dark secrets of The Signal Tower and save Six from her terrible fate; but their journey will not be easy as Mono and Six will face an array of new threats from the terrible residents of this world. Will you dare face this collection of new, little nightmares? PLAY A DARK, THRILLING, SUSPENSE ADVENTURE: A host of brand-new residents lie in wait to haunt your steps and disturb your sleep. Outsmart the sadistic teacher, survive the bloodthirsty hunter and flee from many more terrifying characters, as Mono and Six journey through this world together. DISCOVER A FANTASTICAL WORLD CORRUPTED BY THE SIGNAL TOWER: Escape a world that's rotten from the inside. Your journey will take you from creepy woodlands to sinister schools on your way to the dreadful Signal Tower. Find the source of the evil that spreads through the TV screens of the world. AWAKEN YOUR INNER CHILD TO SAVE SIX FROM THE DARKNESS: Six is fading from this world, and her only hope is to journey with Mono to find what has afflicted her from the Signal Tower. In this world of unknown terrors, you are her only beacon of hope. Can you gather up the courage to fend off your tormenters, and work with Six to make sense of The Signal Tower?

6.

Shady Part of Me

Overcome emotional struggles across a touching narrative filled with twists and surprises. Embark on a dream-like journey, with breathtaking artistic direction and the enthralling voice of Hannah Murray (Game of Thrones, Skins).

7.

Olija

Olija is a game about Faraday's quest, a man shipwrecked then trapped in the mysterious country of Terraphage. Armed with a legendary harpoon, he and other castaways try to leave this hostile country to return to their homelands. Through adventurous exploration, narration and razor sharp combat, the player will discover a strange world and its inhabitants, including Olija, an enigmatic lady that Faraday finds himself bound to over time. Inspired by swashbuckling tales and cinematic adventure games, Olija is a story about facing the unknown in adversity.

8.

Scott Pilgrim vs. the World: The Game - Complete Edition

Play as Scott Pilgrim, Ramona Flowers, Stephen Stills, Knives Chau, and more. Level up your characters and unique abilities as you fight your way through waves tough enemies. Team up with 3 of your friends locally or online, combine your skills in battle or compete with them in awesome mini-games to see who ends up on top! Can you defeat Ramona's League of Evil Exes as you try to win her heart? Epic battles with Lucas Lee, Gideon Graves, and more await Scott Pilgrim and his friends. Zombie hordes? Dodgeball? Battle Royale? Just a few of the things you'll find playing through this Complete Edition. Compete in sub-space mini-games, experience a killer soundtrack, and much more as you re-live the beloved story of Scott Pilgrim vs. the World.

9.

Disjunction

Disjunction features unique stealth-action mechanics and abilities for each of its three playable characters, giving players the freedom and flexibility to choose the playstyle that suits them. Tackle encounters in lethal, high-octane combat, or use your wits to stick to the shadows, utilizing distraction techniques and non-lethal attacks to reach your objective.

10.

Bonkies

Bonkies is a jolly, couch co-op party game with a pinch of construction building! Gather your prime mates, equip your banana-fuelled jetpack and robo-arm, and raise wacky buildings all over the cosmos for the glory of apekind! Become the CHIMPion of space construction!